I first visited Walt Disney World when I was 5, but I was too scared to meet any characters. Adult-me is angry at 5-year-old-me, because I wish I had that classic picture with Mickey when I was a child! Then, when I was in my early 20s, I took a few day trips to Disney, but I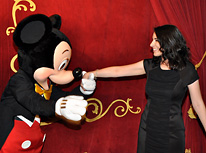 didn't know adults were even allowed to meet characters! It wasn't until researching for my first "real" trip to Disney in 2007 that I learned adults could meet characters, and I knew I had to meet some characters during that trip. After meeting 35 characters that first trip, I was hooked!!
So far, I've met 201 unique characters, and I'm always trying to find someone new each trip.
Take a look through my site to see pictures of all the characters I've met on my many Disney trips! You will find a picture of every outfit I've seen a character in, as well as if I've met them with other characters.
Updated with characters from Feb trip. I met 2 new characters!
Also added a new Events section to the site!
Characters added: Louis and Toy Soliders

Characters with new pictures added: Alice (Winter), Atta (alone), Beast, Belle (Winter), Cinderella's Coachmen (alone), Dopey (alone), Genie (World of Color puppet), Goofy (Baseball), Governor Ratcliffe, Jasmine, Jiminy Cricket, Mad Hatter (new combo), Meeko (new combo), Pluto (new pose), Pocahontas (new combo), Prince Naveen (new combo), Queen of Hearts (new combo), Rapunzel (new poses), Silvermist, Snow White (new pose), Tiana, (new combo), Tweedledee, Tweedledum, Vanellope, Wreck-It Ralph, and Other (Chiquita Banana Lady and DiVine)

Only list updated: Aladdin, Ariel, Aurora, Buzz, Cinderella, Mickey, Minnie, Mulan, Tinker Bell and Woody
Past Updates / List of characters I've met at Disneyland!
All pictures, graphics, layout, text and code &copy 2012-2014 by Heather. All Rights Reserved.