I first visited Walt Disney World when I was 5, but I was too scared to meet any characters. Adult-me is angry at 5-year-old-me, because I wish I had that classic picture with Mickey when I was a child! Then, when I was in my early 20s, I took a few day trips to Disney, but I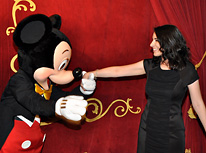 didn't know adults were even allowed to meet characters! It wasn't until researching for my first "real" trip to Disney in 2007 that I learned adults could meet characters, and I knew I had to meet some characters during that trip. After meeting 35 characters that first trip, I was hooked!!
So far, I've met 253 unique characters, and I'm always trying to find someone new each trip.
Take a look through my site to see pictures of all the characters I've met on my many Disney trips! You will find a picture of every outfit I've seen a character in, as well as if I've met them with other characters.
Updated with characters from April trip. I met 5 new characters!
Characters added: BB-8, Captain Phasma, Joy, Sadness, and Jabba the Hutt.

Characters with new pictures added: Anastasia (new combo), Boba Fett (new combo), Chewbacca, Daisy (Springtime), Darth Maul, Darth Vader, Donald (Springtime), Drizella (new combo), Ezra, Goofy (Springtime, new combo), Jawa, Kylo Ren (new combo), Mickey (Springtime, new combo), Minnie (Springtime), Sabine, Stormtrooper - First Order (new combo). Other: Street Performers (Dapper Dans, Chief Smokey Miller, Hildegard Olivia Harding, and Victoria Trumpetto), Other (Rathtar, 501st Rey and 501st Imperial Royal Guard), and Non Theme Park Meets.

Only list updated: Cinderella and Rapunzel.
All pictures, graphics, layout, text and code &copy 2012-2016 by Heather. All Rights Reserved.