I first visited Walt Disney World when I was 5, but I was too scared to meet any characters. Adult-me is angry at 5-year-old-me, because I wish I had that classic picture with Mickey when I was a child! Then, when I was in my early 20s, I took a few day trips to Disney, but I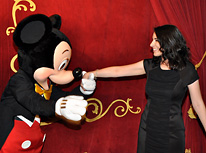 didn't know adults were even allowed to meet characters! It wasn't until researching for my first "real" trip to Disney in 2007 that I learned adults could meet characters, and I knew I had to meet some characters during that trip. After meeting 35 characters that first trip, I was hooked!!
So far, I've met 195 unique characters, and I'm always trying to find someone new each trip.
Take a look through my site to see pictures of all the characters I've met on my many Disney trips! You will find a picture of every outfit I've seen a character in, as well as if I've met them with other characters.
Updated with characters from Aug & Oct Disneyland, D23 Expo & Sept WDW trips. I met 16 new characters!

Characters added: Agent P, Captain America, Clarice, Dreamfinder, Figment, Sofia, Oogie Boogie, Shan Yu, Bolt, Terence, Roger Rabbit, Hades, Fawn, Kenai, Koda, and Governor Ratcliffe.

Characters with new pictures added: Mickey (BVS, Band Concert, Halloween Orange, Halloween Purple, Western, Zorro), Minnie (Candy Corn, Fly Girl, Western, Witch Orange, Witch Purple), Ariel (New Dress, new pose), Captain Hook (OUAT), Chip (BVS, Cop, Sailor, Storytellers, Western), Clarabelle Cow (DCA, new pose), Dale (BVS, Cop, Sailor, Storytellers, Western), Donald (Pirate, Pumpkin, Sailor, Wizard), Dr Facilier (without cane), Goofy (BVS, Candy, Maestro, Skeleton), Marie (DCA, new combo), Pluto (BVS, Candy Corn, Vampire), Pooh (Bee), R2-D2 (CM name tag), Wendy (Winter), Ahsoka Tano (voice actor), Aladdin (new combo), Aurora (new combo, new pose), Belle (broadway actor), Bert (alone), Cinderella (new combo, new pose), Cruella (new pose), Flynn (alone), Genie (new combo), Jasmine (new combo), Lightning McQueen (alone), Peter Pan (new combo), Prince Charming (new combo), Prince Phillip (new combo), The Queen (new pose), Snow White (new combo), Sulley (alone), Tinker Bell (new pose), Captain Jack Sparrow, Duffy, Gaston, Jack Skelleton, Jafar, Lotso, Meeko, Mulan, Prince, Rabbit, Rapunzel, Red, Sally, Silvermist,Terk, Tiana, Tigger and Other (Citizens of Buena Vista Street, Victoria Trumpetto, Officer William Club, Officer Percival Peabody, Red Car News Boys, Mad T Party Flamingo Steed, Mulch, Sweat 'n Shears, Dave Smith, Tony Baxter, and Cast Members).

Only list updated: Merida, Mike Wazowski, Prince Naveen, Pocahontas, Rosetta, Vidia, and White Rabbit

Past Updates / List of characters I met during my first trip to Disneyland!
All pictures, graphics, layout, text and code &copy 2012-2013 by Heather. All Rights Reserved.