I first visited Walt Disney World when I was 5, but I was too scared to meet any characters. Adult-me is angry at 5-year-old-me, because I wish I had that classic picture with Mickey when I was a child! Then, when I was in my early 20s, I took a few day trips to Disney, but I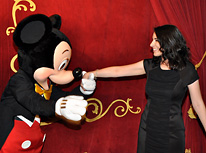 didn't know adults were even allowed to meet characters! It wasn't until researching for my first "real" trip to Disney in 2007 that I learned adults could meet characters, and I knew I had to meet some characters during that trip. After meeting 35 characters that first trip, I was hooked!!
So far, I've met 241 unique characters, and I'm always trying to find someone new each trip.
Take a look through my site to see pictures of all the characters I've met on my many Disney trips! You will find a picture of every outfit I've seen a character in, as well as if I've met them with other characters.
Updated with characters from Aug Disneyland & D23 trip. I met 3 new characters!
Characters added: WALL-E, EVE, and Stormtrooper - First Order.

Characters with new pictures added: Ariel, Aurora, Bert (alone), Captain America (new pose), Chip (DL 60th), Daisy (DL 60th), Dale (DL 60th), Donald (DL 60th), Genie (broadway actor), Goofy (DL 60th, BVS jacket off), Jasmine, Mary Poppins, Mickey (DL 60th), Minnie (BVS, DL 60th), Olaf, Oswald, Pluto (DL 60th), Snow White, Thor (new pose), and Other (Dapper Dans, Cars Land CM, Red Car News Boys, Dick Van Dyke, James Monroe Iglehart, and Non Theme Park Meets)

Only list updated: Belle, Cinderella, Doc McStuffins, Rapunzel, Red, and Tiana
All pictures, graphics, layout, text and code &copy 2012-2015 by Heather. All Rights Reserved.