Michelle was inducted into the USFS Hall of Fame on January 27, 2012 in San Jose, California. She is the lone inductee for the 2012 class. There was a reception at 10pm at the Fairmount Hotel. Dr. Larry Mondschein, the Hall of Fame committee chairman, Patricia St. Peter, the U.S. Figure Skating President, and Brian Boitano introduced Michelle with several wonderful speeches. They also showed a fantastic montage of Michelle's accomplishments on and off the ice. Condoleezza Rice sent a video tribute to Michelle as well. Then, Michelle gave a speech that, just like her skating, was from the heart. The event was supposed to end at midnight, but she stayed until after 1:30am, signing autographs, taking pictures, and just chatting with fans. She treated everyone like they were friends. It was a wonderful night.
The next day, in between groups of the ladies finals, there was another Hall of Fame induction on the Nationals ice. The video montage tribute was shown again. The speeches were much shorter, but it was even more emotional, especially for Michelle and Brian, probably because it was on the ice, in front of a large crowd at Nationals. Michelle stayed for the rest of the competition, signing autographs from her seat for fans. She later took part in the Ladies Award Ceremony, giving out the first place trophy to 2012 Ladies champion, Ashley Wagner. She also gave a hug to each skater on the podium.
I always knew when Michelle would get inducted into the Hall of Fame that I would find a way to be there. It was an amazing and emotional weekend. Michelle did not forget her fans during this time! She mentioned her Michelle Kwan Forum several times throughout the weekend (in her press conference that Friday, in her Hall of Fame induction speech during the reception, and in an interview after the ladies event on icenetwork.com.) She also sent a hand written letter and champagne so we could have a champagne toast to the MKF dinner we had before the reception. Thank you Michelle, for everything! I don't think I could ever fully express how much you, and your skating, have meant to me through the years. That you decided to single out your fans and the forum at a time when the spotlight was all on you is something I will always treasure. :)
Be sure to check out my pictures from the weekend, including the reception, the on ice induction, Michelle during the ladies awards ceremony, and even some pictures of her in the crowd during the ladies event! I'm hoping to post a few videos as well, but I've been having trouble uploading them right now.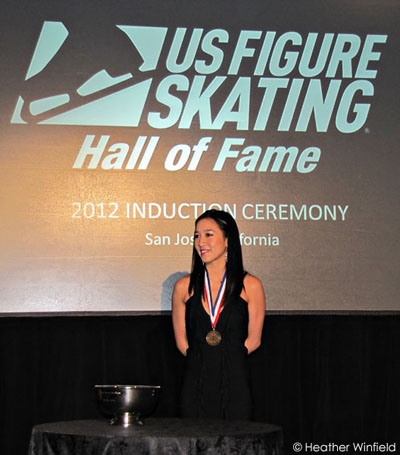 ---
Last updated February 5, 2012

Back to Events / Reviews and Reports
Photo © Heather Winfield